6/2 w/ Ground UF-B Underground Feeder Cable 125', 250', 500' or 1000ft Coil
6/2 UF-B Wire w/ Ground 125', 250', 500' or 1000ft Coil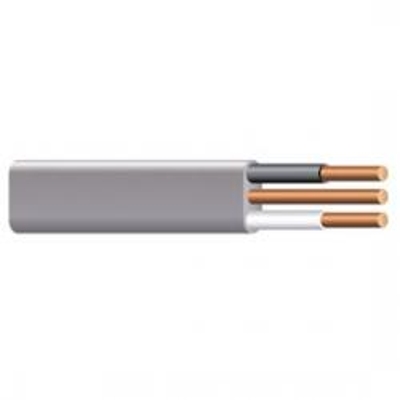 Product Details
Learn everything you want to know about this product to make an informed purchase
Applications:
Type UF-B cable is generally used as feeder to outside post lamps, pumps, and other loads or apparatus fed from a distribution point in an existing building as specified in the 2011 National Electrical Code. UF-B cable may be used underground, including direct burial. Multiple conductor UF-B cable may be used for interior branch circuit wiring in residential or agricultural buildings at conductor temperatures not to exceed 90°C (with ampacity limited to that for 60°C conductors) as specified by the National Electrical Code. UF-B can be used in applications permitted for NMC in Section 334.10(B) of the National Electrical Code. Voltage rating for UF-B cable is 600 volts.
Standards:
ASTM - B3 and B-8
UL Standard 83
UL Standard 493
Federal Specification A-A-59544
National Electrical Code, NFPA 70, 2011 Edition
RoHS/ REACH
Construction:
Conductors:
Stranded annealed soft bare copper per ASTM B3 and ASTM B8.

Insulation:
Polyvinyl chloride (PVC) with a nylon covering. Color coded phase identification.
Ground:
Soft bare copper, stranded per ASTM B3 and ASTM B8.

Jacket:
Sunlight, moisture and fungus resistant gray PVC.
Specifications*:
Size: 6 AWG
Number of Conductors: 2
PVC Insulation Thickness: 0.035 inches
Ground Wire Size: 10 AWG
Nylon Thickness: 0.005 inches
Nominal Cable Dimensions: .73 inches x .338 inches
Weight per foot: 0.303 lbs
Allowable Ampacity: 55 Amps
*Data provided on this page is subject to change based on different manufacturers variances.
More Information

| | |
| --- | --- |
| Cable Type | Underground Feeder (UF-B) |
| Type of Structure | Residential, Agriculture |
| Wire Size | 6 AWG |
| # of Conductors | 2 Conductors w/ Ground |
| Ground Size | 10 AWG |
| Conductor Material | Bare Copper |
| Stranded or Solid | Stranded |
| Ampacity | 55 |
| Voltage | 600V |
| Temp. Rating | 90°C |
| Insulation Material | PVC - Polyvinyl Chloride |
| Jacket Material | PVC - Polyvinyl Chloride |
| Jacket Color | Gray |
| Direct Burial | Yes |
| Sunlight Resistant | Yes |
| Location Use | Wet, Dry |
| Indoor/Outdoor Use | Indoor, Outdoor |
| Applications | Outbuildings, Garages, Barns, Pumps, Lamp Posts, Internal Branch Circuit Wiring |
| Standards | UL Listed, RoHS Compliant |
| Color Code | Black, White |