Orange Jacket, #3-3C + #18-6C w/ #8 Ground Type TC/TC-ER-JP Generator Cable
#3-3C + #18-6C w/ #8 Ground Type TC/TC-ER-JP Generator Cable, Orange Jacket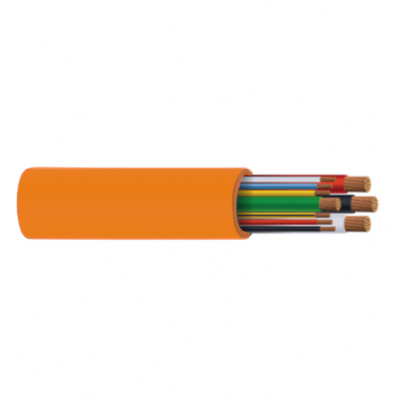 Product Details
Learn everything you want to know about this product to make an informed purchase
#3-3C + #18-6C w/ #8 Ground Type TC/TC-ER-JP Generator Composite Cable (100 amps, 17kW-24kW)

Cut to length - sold by the foot. Enter the desired footage in the QTY box.
Minimum 50' to maximum 1000'. Please call for longer put ups.
Color:
Orange
Applications:
Multi-conductor all in one cable for connecting a generator to a transfer switch. JP (Joist Pull) rated per the 2017 NEC 336.10(9). Black jacket and color coded inner conductors.
Conductor:
• Element 1: Annealed bare copper Class C
• Element 2: Annealed bare copper Class K
• Element 3: Annealed bare copper Class C
Insulation:
• Element 1, 2 & 3: Polyvinylchloride (PVC) & Nylon
Jacket:
• Sunlight resistant and direct burial approved PVC with ripcord rated 75°C wet or dry per UL 1277
Assembly:
All 3 Elements or Conductors are cabled together with NonHygroscopic Polypropylene fillers as required for a circular cross-section with a clear mylar binder tape and jacketed.
Color Code:
• Element 1: Black, White, Red
• Element 2: Black, Red, Yellow, Yellow/Black, Blue, White
• Element 3: Green Ground
Standards:
• UL Listed as TC-ER-JP per UL Standard 1277
• Rated 75°C wet or dry to meet UL 83 for THHN/THWN
• Meets cold bend test at -40°C • ICEA S-73-532
• Meets UL 1581 & 1202 (FT-4) 70,000 BTU/HR & ICEA T-29-520 210,000 BTU/HR requirements
• REACH compliant per Regulation (EC) No 1907/2006 (197) Updated January 15, 2019
• Cable is suitable for use in Class I Division 2 hazardous locations
• Element 1 & 2 conductors pass UL VW-1 flame test, rated THWN/VW-1
• ASTM B3, B174, B801
Specifications*:
Size: 3 AWG (3 Conductors), 18 AWG (6 Conductors)
Ground Wire Size: 8 AWG
Outside Diameter: 0.951 inches
Allowable Ampacity: 100 Amps
***THIS MATERIAL IN NON-RETURNABLE***

All values are nominal and subject to correction.
*Ampacity according to NEC 310.15(B)(16) @30°C THWN 75°C insulated wires.
**Installations shall follow NEC, applicable correcting factors shall be considered when conditions vary.
More Information

| | |
| --- | --- |
| Wire Size | 3 AWG |
| # of Conductors | 3 Conductors w/ Ground |
| O.D. (Inches) | 0.951 |
| Ampacity | 100 |
| Voltage | 600V |
| Temp. Rating | 90°C |
| Location Use | Wet, Dry |
| Indoor/Outdoor Use | Indoor, Outdoor |