10 gauge 4 conductors w/ ground copper MC Cable.  Sold by the spool.
10/4 Solid MC Cable w/ Ground, 250ft or 1000ft Spool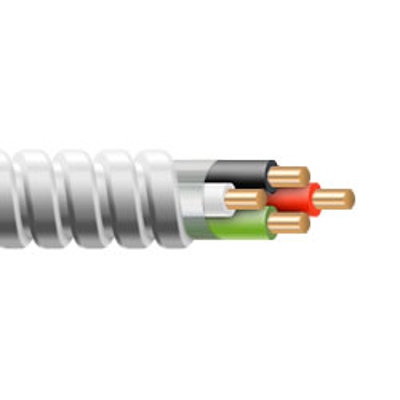 Product Details
Learn everything you want to know about this product to make an informed purchase
10-4C Metal Clad (MC) Cable with Ground, Aluminum Armored, Solid Copper Conductors
Applications:
Metal Clad Cable may be used for branch, feeder and service for distribution in commercial, industrial, and multi-residential construction. They are suitable for installation in motion picture studios, theaters, and places of assembly (100 people or more) per NEC Articles 230.43, 300.22(C), 330, 396, 518, 520, 530 and 645. These cables may be installed in approved raceways and as open runs of cable on a messenger. They may be installed exposed, concealed or in cable tray and may be run in spaces used for environmental air in accordance with NEC Article 300.22(C) ONLY.
Construction:
Solid conductors and the wires for stranded conductors are soft annealed copper to ASTM B3. PVC/Nylon type THHN insulation in accordance to UL 83, flame resistant, meeting UL VW-1. Bare copper ground wire, sized in accordance with NEC and UL, with green THHN insulation. Conductors are cabled with grounding wires. A marker tape/core protection tape combination assembles the core in an essentially round configuration. Interlocking galvanized steel tape armor applied directly over the core. flame test.
Standards:
- Meets UL 83: Thermoplastic Insulated Wires and Cables
- Tested to UL 1479: Fire Tests of Through-Penetration Firestops for one, two or three hour fire rated assemblies (for cables up to #2 AWG)
- Meets UL 1569: Metal Clad Cables
- Meets UL 1581: Reference Standard for Electrical Wires, Cables, and Flexible Cords
- Meets UL 2256: Wire and Cable Test Methods
- Designated Type MC per NEC Article 330
Specifications*:
Size: 10 AWG
Outside Diameter: 0.628 inches
Ampere Rating THHN: 30
*Data provided on this page is subject to change based on different manufacturers variances.
More Information

| | |
| --- | --- |
| Cable Type | MC |
| Wire Size | 10 AWG |
| # of Conductors | 4 Conductors w/ Ground |
| Conductor Material | Bare Copper |
| Stranded or Solid | Solid |
| O.D. (Inches) | 0.628 |
| Ampacity | 30 |