1/0 MV-105, 5kV/8kV, EPR/PVC Power Cable w/ Copper Tape Shield
1/0 MV-105, 5kV/8kV, EPR/PVC Power Cable w/ Copper Tape Shield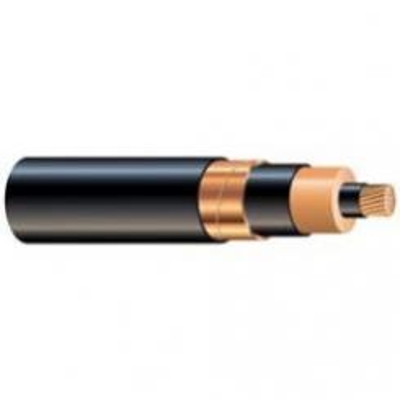 Product Details
Learn everything you want to know about this product to make an informed purchase
Cut to length - sold by the foot. Enter the desired footage in the QTY box.
Minimum 10' to maximum 1000'. Please call for longer put ups.
Applications:
5/8KV Shielded MV-105 cable is primarily used for power circuits in commercial, industrial, refinery and petro-chemical plants; utility power generation and substations. The cable can be installed in wet or dry applications in cable tray sizes 1/0 & larger, duct, open air and direct burial. The cable is approved for temperatures up to 105°C and voltages up to 5000 volts in ungrounded applications and 8000 volts for grounded applications.
Jacket:
Black Polyvinylchloride (PVC) Jacket, sunlight resistant
Standards:
AEIC CS8 ICEA S-93-639 ICEA S-97-682 UL 1072 IEEE 383 Flame Test (1/0 AWG and Larger) IEEE 1202 Flame Test (250 MCM and Larger) CSA C68.10
Conductors:
Class B stranded, annealed, bare copper per ASTM B-3 and B-8, (compact stranding per ASTM B-496 is available). Strand shield is an extruded semi-conducting thermoset
Insulation:
Ethylene Propylene Rubber (EPR)
Insulation Shield:
Extruded thermosetting semiconducting shield with controlled adhesion to the insulation providing the required balance between electrical integrity and ease of stripping.

Ampacity:
Based on three single conductor cables in isolated conduit in air per NEC Table 310.73 with a conductor temperature of 90°C and an ambient temperature of 40°C
Temperature:
105°C
Voltage:
5 kV 133% and 8 kV 100%
Specifications*:
Size: 1/0
Number of Strands: 19
Insulation Thickness: 0.115 inches
Jacket Thickness: 0.062 inches
Outside Diameter: 0.820 inches
Weight: 0.670 lbs per ft
Amps per Conductor: 180 amps
*Data provided on this page is subject to change based on different manufacturers variances.
More Information

| | |
| --- | --- |
| Wire Size | 1/0 AWG |
| O.D. (Inches) | 0.82 |
| Ampacity | 180 |