Ships in 4-7 Business Days
16 AWG 3 Conductor SVT Retractable Cord Reel, 20 ft.
Southwire E315, 20 ft. 16/3 Yellow SVT Retractable Cord Reel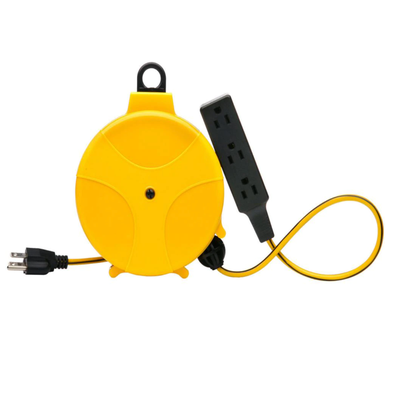 Product Details
Learn everything you want to know about this product to make an informed purchase
Southwire E315, 20 ft. 16/3 SVT Retractable Cord Reel
Description:
Designers Edge E315 Retractable Extension Cord Reel with Triple Tap, Yellow, 20-Foot. Use when you need an extension cord and power supply, but don't want to travel far. Power block has 3-outlets to allow use with multiple appliances at once. Grounded plug provides safety and convenience. Retractable 20-foot extension cord with 3-outlet strip on the end. Features loop at top of unit, allowing you to hang unit from ceiling, new and existing hooks, or other areas you need access to power. Heavy duty plastic construction, durable enough to withstand regular indoor use. Bright yellow color makes portable cord reel easy to locate. Etl listed in us and ca.
Features:
- RETRACTABLE EXTENSION CORD reel is prefect for use in your workshop or garage storage
- CONVENIENT 20 foot extension cord that can be pulled out to a desired length to reach your work area
- Power block has 3 grounded outlets to allow use with multiple appliances at once
- VERSILTAL hanging hook allows you to hang retractable cord where ever you need to help keep your work space organized. Total Outlet: 3
- Three pronged extension cord plugs in to any standard outlet