24 AWG Unshielded Twisted 50 Pair, High-Performance Data Cable
CAT3 CMR 50 Pair, Unshielded, Riser Rated - By the Foot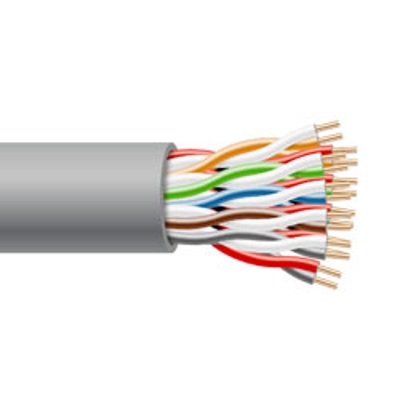 Product Details
Learn everything you want to know about this product to make an informed purchase
24 AWG Unshielded Twisted 50 Pair, High-Performance Data Cable
Product Description:
For use as a high pair-count backbone per ANSI/TIA-568-A. Near-end crosstalk (NEXT) is measured using the Power SUM (PS) method. This method accounts for all the energy present in 25-pair cable.
Applicable Standards:
ANSI/TIA Category 3 compliant
UL Listed CMR
Conductor:
24 AWG solid bare annealed copper
Insulation:
PVC
Jacket:
Gray PVC Jackert
Shield:
Unshielded
Specifications*:
Size: 24 AWG
Number of Pairs: 50
Outside Diameter: 0.510 inches
Weight: 0.180 inches
*Data provided on this page is subject to change based on different manufacturers variances.