***SHIPS WITHIN 2-3 BUSINESS DAYS***
14 Gauge 4 Conductor + 12 Gauge 1 Conductor + 10 Gauge 2 Conductor RV Cable Wire, 100ft Spool
Applications:
General-purpose primary wires enclose in high quality black PVC jacket. Especially designed for use in Recreational Vehicle's multiple electrical system connections. Heavy-duty compact cable protects insulated conductors against weathering, chemicals, and abrasion. Color-coded conductors enable easy identification.
Standards: Inner wires meet SAE J1128
Specifications*:
Size: 14 Gauge + 12 Gauge + 10 Gauge
Total Conductors: 7
Number of Strands: 19/27+ 19/25 + 19/23
Jacket Color: Black
Jacket Material: Polyvinylchloride (PVC)
Voltage: 60V or less
Temp: Rated –55°C (–67°F) to 80°C (176°F)
Outside Diameter: 0.560 inches
Length: 100 ft
Weight: 0.380 lbs per ft.

Color Code:
7 Conductors: Blue/Brown/Black/Green/Red/White/Yellow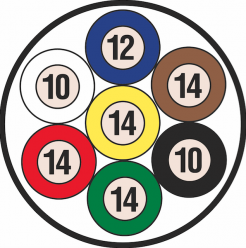 *Data provided on this page is subject to change based on different manufacturers variances.