Acculamp ALSP38 PAR38 LED Dimmable Lamp, 1200 lumens 20 watts, 45 Degrees
Acculamp PAR38 LED Dimmable Lamp, 1200L 20W, 45 Deg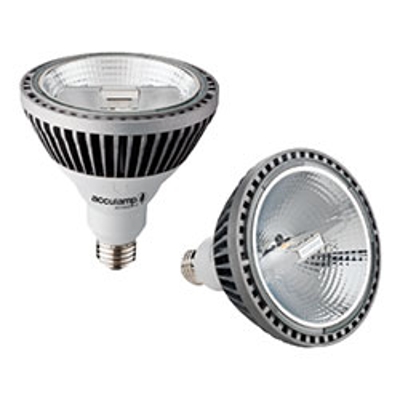 Product Details
Learn everything you want to know about this product to make an informed purchase
Acculamp ALSP38 PAR38 LED Dimmable Lamp, 1200 lumens 20 watts, 45 Degrees
Intended Use:
Ideal for track, recessed and accent lighting use in both commercial and retail applications.
Construction:
Housing: High quality, cast aluminum, advanced thermal design for optimal cooling efficiency.
Optics: Optimally engineered specular faceted reflector for efficient distribution.
Expected Life:
50,000 hours - L70 lumen depreciation design criteria.
Rated Life
25,000 hours - L70 after 6000 hours, initial ENERGY STAR® qualification tested.
Max. Luminous Intensity: 5000cd (900L); 6800cd (1200L-25°); 2200cd (1200L-45°); 9000cd (2000L-25°); 3000cd (2000L-45°).
Lumen Output:
900 lumens (900L); 1200 lumens (1200L); 2000 lumens (2000L)
Operating Temperature: -22°
F to 113 °F (-30 °C to +45 °C)
Color Temperature (CRI): 900L - 2700K (82CRI); 4000K (85CRI); High R9 (94CRI)
1200L - 2700K (82CRI); 4000K (85CRI)
2000L - 2700K (80CRI); 4000K (80CRI)
High Spectral Content: R9=78
Electrical System:
Uses High Brightness LED mounted to efficient thermal transfer system.
20-watt (900L/1200L)/25-watt (2000L) high-efficiency integral driver 110-120VAC.
Actual wattage may differ by +10%/-15% when operating between 110-120V +/- 10%.
Dimmable down to 10%.
Listing:
DIM Lamp -- cETLus listed to U.S. and Canadian safety requirements.
Non-DIM Lamp -- UL and C-UL listed to U.S. and Canadian safety requirements.
Damp location.
Tested in accordance with IESNA LM-79 standards.
Suitable for use in totally enclosed fixtures per UL1993.
Tested at 45 °C per ENERGY STAR® L70 lumen maintenance.
Warranty:
Five-year limited warranty. Complete warranty terms located at:
www.acuitybrands.com/CustomerResources/Terms_and_conditions.aspx
Dimensions:
Diameter: 4-3/4"
Length: 5-1/8"
Weight: 1.09 lbs
All dimensions are inches.
Photometrics and Dimmer Compatibility:
Download Spec Sheet
Specification subject to change without notice.
URL Key
acculamp-par38-led-dimmable-lamp-1200l-20w-45-deg