2/0-2/0-2/0 Aluminum SER Cable w/ 1AWG Ground
2/0-2/0-2/0 Aluminum SER Cable w/ 1AWG Ground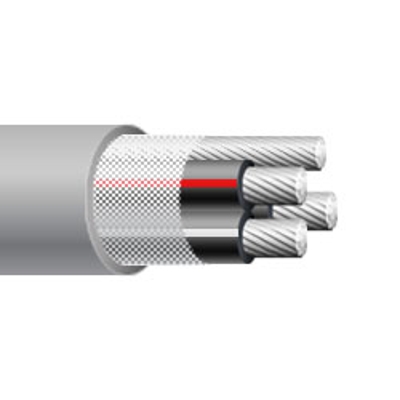 Product Details
Learn everything you want to know about this product to make an informed purchase
Applications:
SER is type SE, Style R cable, used as an above ground service entrance cable, a panel feeder and in branch circuits. The cable is rated at 600 volts and 90°C for use in wet and dry locations. SER cables are LEAD FREE and RoHS compliant.
Construction:
Conductor - Compact stranded AA-8000 series aluminum alloy (ACM) per ASTM B801 or B836. #8 AWG is solid AA-8000 series aluminum alloy (ACM) per ASTM B800.
Insulation - Color coded cross-linked polyethylene (XLPE).
Assembly - Insulated conductors are cabled with the bare ground wire. A flame retardant fiberglass reinforced binder tape assembles the core in a circular configuration.
Jacket - Sunlight resistant, LEAD FREE, flame retardant, gray polyvinyl chloride (PVC) material.
Standards:
Meets UL 854 Service Entrance Cable
Specifications*:
Insulated Conductor Size: 2/0 (3 separate conductors)
Insulation Thickness: 0.055 inches
Bare Neutral Size: 1 AWG (18)
Jacket Thickness: 0.030 inches
Outside Diameter: 1.14 inches
Ampacity amps 150
Net Weight: .67 lbs/ft
*Data provided on this page is subject to change based on different manufacturers variances.
More Information

| | |
| --- | --- |
| Cable Type | Service Entrance Cable |
| Type of Structure | Residential, Commercial |
| Wire Size | 2/0 AWG |
| # of Conductors | 3 Conductors w/ Ground |
| Ground Size | 1AWG |
| Conductor Material | Aluminum |
| Stranded or Solid | Stranded |
| O.D. (Inches) | 1.14 |
| Ampacity | 150 |
| Voltage | 600V |
| Temp. Rating | 90°C |
| Insulation Material | XLPE - Cross-linked Polyethylene |
| Jacket Material | PVC - Polyvinyl Chloride |
| Jacket Color | Gray |
| Direct Burial | No |
| Sunlight Resistant | Yes |
| Location Use | Wet, Dry |
| Standards | UL Listed |