12 Gauge THHN Stranded Copper Building Wire. 
12 AWG THHN/THWN-2 Stranded Wire - sold by the spool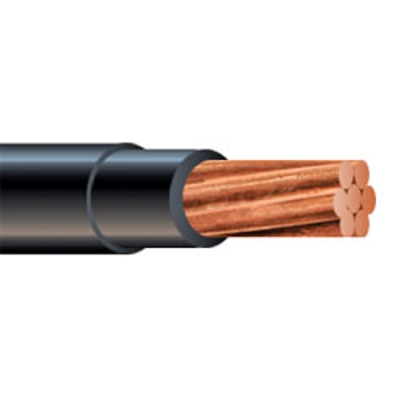 Product Details
Learn everything you want to know about this product to make an informed purchase
#12 THHN/THWN-2 Wire
Sold by the spool – wide range of spool lengths available.
Applications:
Type THHN/THWN-2 building wire is intended for general purpose applications as defined by the National Electrical Code (NEC). Type THHN-THWN-2 is permitted for new construction or rewiring for 600-volt applications. Applications requiring Type THHN or THWN-2, the conductor is appropriate for use in wet or dry locations at temperatures not to exceed 90°C or not to exceed 75°C in oil or coolants. Applications requiring Type MTW conductor is appropriate for use in dry locations at 90°C, or not to exceed 60°C in wet locations or where exposed to oils or coolants. Applications requiring Type AWM conductor is appropriate for use at temperatures to not exceed 105°C in dry locations.
Also Known As:
12 Gauge Copper wire, #12 THWN, building wire, 12 gauge hook up wire, conduit wire, bathtub wire, lighting wire, nylon copper wire, construction cable, 12 gauge wire, #12 awg wire, 500' of 12 AWG Wire
Features:
Nylon outer jacket for easy pulling. VW-1 rated 14 AWG - 8 AWG. All sizes are rated gasoline and oil-resistant II.
Jacket:
A tough, polyamide, Nylon outer covering per UL-1063 and UL-83.
Standards:
Underwriters Laboratories Standards UL-83, UL-1063, UL-758
AWM Spec 1316, 1317, 1318, 1319, 1320, 1321
ASTM Stranding Class B3, B8, B787
Federal Specification A-A-59544
Canadian Standards Association C22.2 No. 75
NEMA WC70/ICEA S-95-658
Institute of Electrical and Electronics Engineers
Construction:
Conductors:
Stranded, uncoated copper conductors per ASTM-B3, ASTM-B787 and ASTM-B8
Insulation:
Color-coded Polyvinyl Chloride (PVC), heat and moisture-resistant, flame-retardant compound per UL-1063 and UL-8
12 AWG THHN/THWN-2 Specifications*:
Size: 12 AWG
Number of Strands: 19
Cross Section Area (mm2): 3.31
PVC Insulation Thickness (Conductor): 0.380 mm / 0.015 inches
Nylon Jacket Thickness: 0.100 mm / 0.004 inches
Outside Diameter: 3.23 mm / 0.127 inches
Allowable Ampacity: 20 Amps at 60ºC / 20 Amps at 75ºC / 20 Amps at 90ºC
*Data provided on this page is subject to change based on different manufacturers variances.
More Information

| | |
| --- | --- |
| Product Detail Page Title Override | 12 AWG THHN Stranded Wire - By the roll |
| Cable Type | THHN/THWN-2 |
| Wire Size | 12 AWG |
| # of Conductors | 1 Conductor |
| Conductor Material | Bare Copper |
| Stranded or Solid | Stranded |
| Number of Strands | 19 |
| O.D. (Inches) | 0.127 |
| Ampacity | 20 |
| Voltage | 600V |
| Temp. Rating | 90°C |
| Insulation Material | PVC - Polyvinyl Chloride |
| Jacket Material | Nylon |
| Location Use | Wet, Dry |
| Indoor/Outdoor Use | Indoor, Outdoor |
| Standards | UL Listed, CSA Certified |
| Features | Water Resistant, Oil & Gas Resistant, Heat Resistant |